Covid has changed us too: We've found that we really like working remotely. So while we're still based in Saratoga, you can find any number of us in any number of places. It does wonders for the creative spirit!
The Gist
---
Founded: 2000
Location: Grand old Saratoga Springs, NY. Home of the country's oldest and most beautiful racetrack, and summer home of the New York City Ballet. It's a city in the country that's really on the move.
Clients: Everything from a lacrosse training academy and a traveling museum to a manufacturer of miniature screws. With a special expertise in healthcare and education.
Mad Men, we're not. We're real people who come up with smart solutions. Our clients appreciate that we tell it straight, really listen, and care about budgets. If you like the no b.s. approach, you'll like us.
You'll also like that you always get the A team. That's one of the advantages of working with us−we don't believe in B teams. The buck stops here.
We're a Gaggle of Creatives & Geeks.
We Design & Develop Smart Stuff That Gets Results.
Andrew Shanley
— Founder & Director All Things Off-line
Completed two marathons
Single digit golf handicap
Published author
In the ad business, Andrew's been there, done that. He's played a leadership role in numerous local and statewide campaigns. Before that, he was a newspaper reporter. He covered John Belushi's funeral, interviewed a Secretary of Defense, profiled writers and musicians, and covered a couple of murder trials along the way. Andrew plays many roles at Imagine That but at heart he's a writer. He has a gift for making it sing.
Karen Shanley
— CEO & Director All Things On-line
Owns more tools than a hardware store
Published author
Olympic multi-tasker
When it comes to web work, Karen is a human Swiss Army knife, without the edge. As our web director and digital strategist, she oversees web development and handles maintenance, SEO, and social media. Karen is also an accomplished writer, with a popular blog, so we draw upon those skills as well. When she's not at her desk, you can find her with her dogs or working in her large organic garden.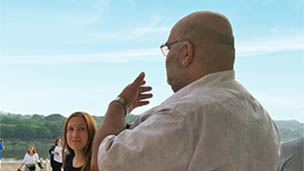 Umang Patel
— CIO & Genius Mastermind
Lives for spreadsheets
Translates tech-speak into plain English
No one should have this many good ideas
Umang is our IT guru. He is responsible for the management, implementation, and usability of information and computer technologies. Anything tech (and, really, anything web), Umang is the guy. Spend five minutes with him and you'll agree that he may just be one of the smartest, most innovative people you've ever met.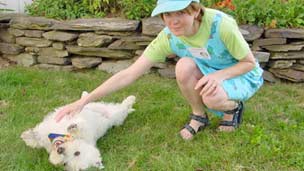 Laurie Freehafer
— SEO and Social Media Manager
Took Odyssey of the Mind team to Worlds
Admits to being a good proofreader
Actually enjoyed winters in Buffalo
Laurie's involvement in media and marketing dates back to 1999. Whether dissecting a website for SEO opportunities, curating news for social media sites or homing in on HTML and text errors, what charges Laurie up is finding that needle in the haystack. Not surprisingly, combing beaches for sea glass is her passion.
Julie Betts
— Creative Director
Voted (by us) Miss Congeniality
Mom
Reluctant skier
Julie's a proud product of the very fine Graphic Design program at the College of Saint Rose. She joined Imagine That as an art director in 2002 and since then has designed countless beautiful brochures, ads, logos, displays, identity packages and web sites. The mother of two sweet girls, Julie treasures her time with them, but admits to appreciating her time with us grownups.
Amanda Webster
— Graphic Designer and Illustrator
Fearless snowboarder
Survived ACL surgery
Should be holding shows for her art
Amanda is our resident artist extraordinaire. She holds a BA from The University of Hartford in Illustration and Graphic Design. The awards she's won are longer than her arm. When she's not two inches from her screen, you can find her tearing up the slopes on her snowboard or turning herself into a pretzel in a Hot Yoga class.