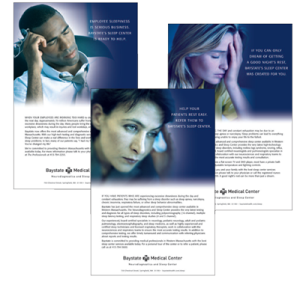 Baystate Medical Center recently opened its newly expanded, state-of-the-art Neurodiagnostics and Sleep Center.

The goals of the marketing plan were to:
Increase volume and awareness of the Neurodiagnostics and Sleep Center.
Heighten awareness of its staff's medical expertise.
Publicize the newly designed, high-technology environment with its home-like atmosphere.
Strategy
We created a series of print ads, a radio spot, and billboard. Baystate supplemented these efforts with an article in the hospital's magazine, and by placing media stories about sleep disorder conditions. The ads focus on the signs and symptoms of sleep disorders that the general public can recognize, prompting people to seek more information by calling the hospital's help line. A radio spot and billboard rounded out the multi-media campaign. The print ads featured key messages targeted to referring physicians and business employers. These versions were placed in business and health care publications.
Plan Evaluation and Measurement
Assess patient volume goals among consumers.
Track the number of physician referrals.
Track phone calls made to The Professionals specifically related to the Neurodiagnostics and Sleep Center.